Diese Münze ehrt den fiktiven britischen Geheimdienstagenten James Bond, auch bekannt als 007. Der erste Film kam 1962 mit dem Titel James Bond – 007 jagt Dr. No auf die Leinwand. Die Produzenten Harry Saltzman und Albert R. 'Cubby' Broccoli erwarben zuvor die Filmrechte für die Bücher Flemings.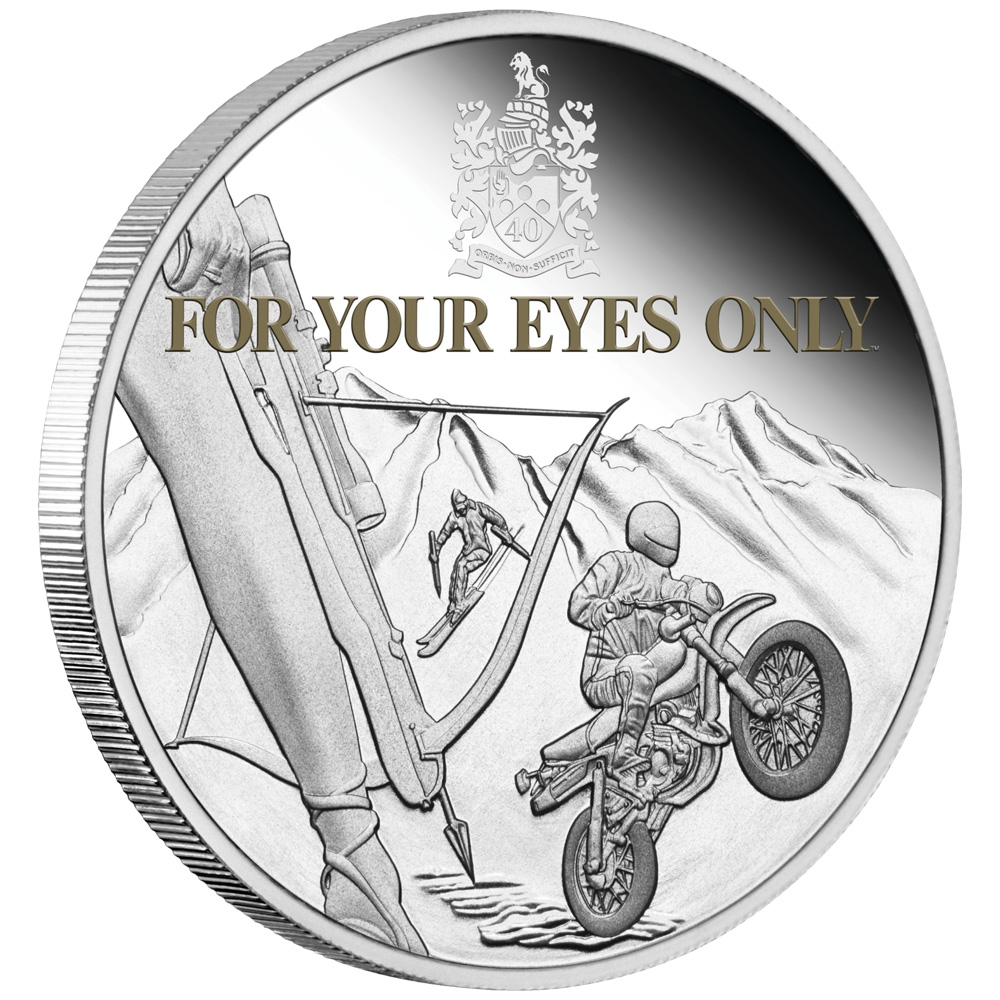 Mehr als 50 Jahre später, unterhält und begeistert James Bond das Publikum auf der ganzen Welt in einer der ältesten und erfolgreichsten Film-Marke.

Das Design der Münze zeigt einen Motorrad-Attentäter, das Teilbild eines Frauenbeins und eine Armbrust, inspiriert vom Original-Filmplakat. James Bond wird durch die Figur eines Abfahrtsläufers im Hintergrund dargestellt.

Die Motivseite enthält außerdem das offizielle Logo von For Your Eyes Only in Farbe sowie das Bond-Familienwappen mit dem Motto ORBISNONSUFFICIT (die Welt ist nicht genug) und der Zahl 40.

(c) 007 and related James Bond Indicia © 1962-2020 Danjaq, LLC and Metro-Goldwyn-Mayer Studios Inc. (c) and related James Bond Trademarks are trademarks of Danjaq, LLC. (c) 2020 EON Productions Limited and Danjaq, LLC. All Rights Reserved.

Die 1 oz Silbermünze hat einen Nennwert von 1 Dollar, besteht aus reinstem 999,9er Silber, hat einen Durchmesser von 40,90 mm, eine Dicke von 3,50 mm, eine Auflage von weltweit nur 5.000 Exemplaren und wurde in der höchsten Prägequalität "Polierte Platte" geprägt.